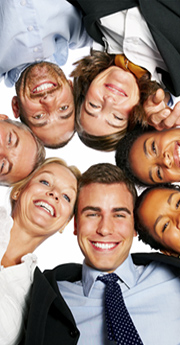 Corporate
In the boardroom, the conference room, large events or employee training, H-ITT audience response systems enable interaction to improve audience comprehension, involvement and communication.

Transform your training session or meeting from "telling" into an engaging collaborative learning environment that drive long term retention and lasting behavior change.

Leaders and trainers are tasked more than ever to deliver superior results and bring more value to meetings. Leverage digital technology to engage, access, motivate, inspire and implement lasting impact.



Turbocharge presentations with instant audience feedback using immediate response polling!



Interactive presentations
Increased audience participation
Enhanced collaboration and teamwork for better decision making
More effective research to manage change
Better ROI from meetings, training courses or events
Improved audience interaction
Increased productivity
Multiple reports containing your audience feedback.

Adult Learning studies conclude higher retention rates among adults who are motivated and engaged. Thus, it is necessary to remove the boredom during training by keeping audience members engaged and accountable. The H-ITT system reaches everyone at once to gather instant feedback in order to take action and implement swift change as needed.

Interactive sessions that fuel efficiency, drive participation and increase honest feedback without risk of exposure.
Company, Shareholder and Board Meetings

Focus Groups with Customers or Employees

Employee Training and Testing

Conferences and Events

Anonymous coverage of Sensitive Materials
"Tell me, and I will forget. Show me, and I may remember. Involve me, and I will understand." Confucius, circa 450 BC